Various, 2002-2011


Project Scope:

Digital Strategy
Social Strategy
Concept Development
Digital Media
Branded Content
Game Design
Web Applications
Web Site Design & Dev


I'm one of the few people working in the industry that can remember participating in the first social network…. Email lists. Before we even had online communities, before the term profile page, we chatted and shared content in email lists. I actually got paid to create videos that would go "Viral" via email long before Youtube was even a concept. I have not only experienced the birth and rise of all the social tools and networks, I was constantly asked to help brands tap these platforms to engage their audiences.

SOCIAL
MARKETING
Sprite, 2011

We used social media to help Sprite and LeBron James pump new life into neighborhood basketball courts around the country.

Leveraging Sprite's 3 million+ Facebook fans, we designed a three-month digital campaign encouraging teens to nominate and vote on local parks and playgrounds that needed refreshing. Participants nominated parks through a custom Facebook Canvas App then rallied their friends to participate as they competed for cash grants from $20,000 to $35,000. We launched at the NBA All-Star weekend in February, and leveraged the voice and likeness of LeBron James as our spokesperson. The Facebook page invited Sprite fans to nominate their local parks using an intuitive Google Maps-enabled interface. Participants could upload photographs, add comments and share their content and promote their park within their own social graph.

Refreshed Hoops

Sprite pledged $2 million in 2011, refreshing more than 150 basketball courts in 40 cities. Traffic and engagement on their social media channels rose to an all-time high. An additional 200,000 fans joined the Sprite social graph during the campaign.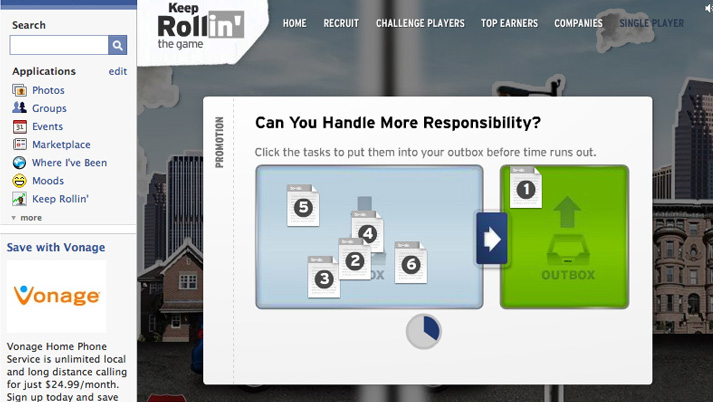 Toyota, 2008

Jumping on the Facebook bandwagon in 2008, Toyota's multi-cultural agency, Burrell, enlisted us to help them develop a social campaign supporting the new Corolla launch.

As our audience was defined as strivers out to make themselves a success in their world, we created social game inspired by the game Life. Players started with nothing and played to succeed, then challenged their friends to best their scores.


RELEARN
TO DRIVE

BMW, 2007
The outstanding idea and video content in this microsite for BMW was developed by GSD&M. Despite it not being our idea, there was great collaborative effort with the agency allowing us to create an experience that helped users engage with and enjoy the content.
The site consisted of nine very humorous videos putting the viewer in the first-person perspective of a driver in training being taught by some really flawed and funny driving instructors. Users could send these videos to their friends via a mad-lib inspired form email and then "Undo The Damage" at the BMW Performance Driving School. To showcase the driving school, we created a sister site featuring great footage from actual drivers and instructors on the track at the school.
Enrollment in the school increased 300% immediately following the launch of the campaign.
CHERRY COKE
MYSPACE DESIGN CONTEST


Coca-Cola, 2006
Once upon a time, Facebook was unheard of and MySpace dominated many of the waking hours for most teenagers. Coke asked us to come up with a strategy using Social Networking to reintroduce Cherry Coke to the youth audience.
The brief required we leverage the new product design from Dr. Dre in a prominent way. At the time, savvy Myspacers were going to great extremes hacking the HTML of their pages creating custom designs to express their personal styles. Working off this insight we built an extremely robust and easy-to-use design application ON A MYSPACE PAGE empowering people to use cherry-themed artwork and design their custom "Cherry'd" MySpace Page. Other users then voted on the pages for a few weeks. The winning design took over the Myspace home page for 24 hours, in doing so, exposing the winner and their design to over 30 million people. The project was audacious in its scope. The team stepped up big time delivering a very significant web app. Factoring in how challenging it was to work with the Myspace team at the time, it was a truly amazing accomplishment.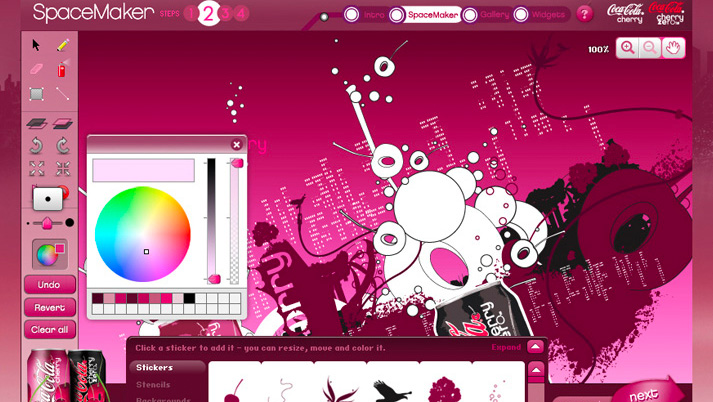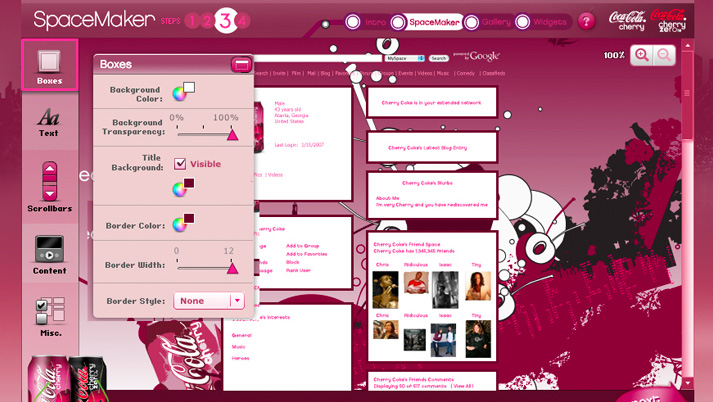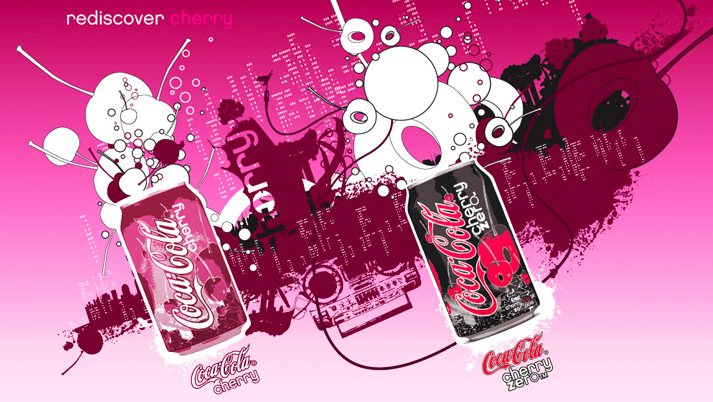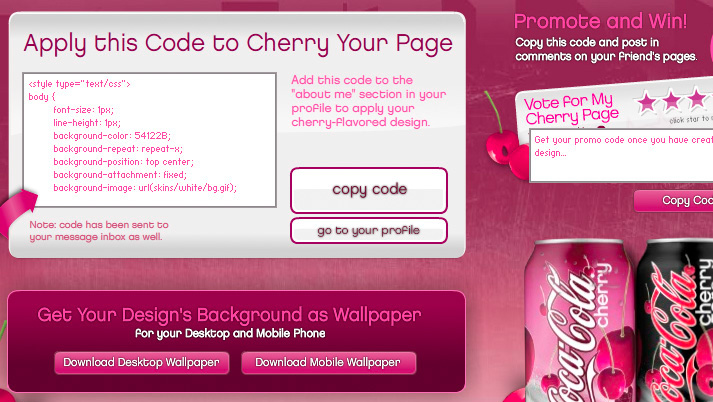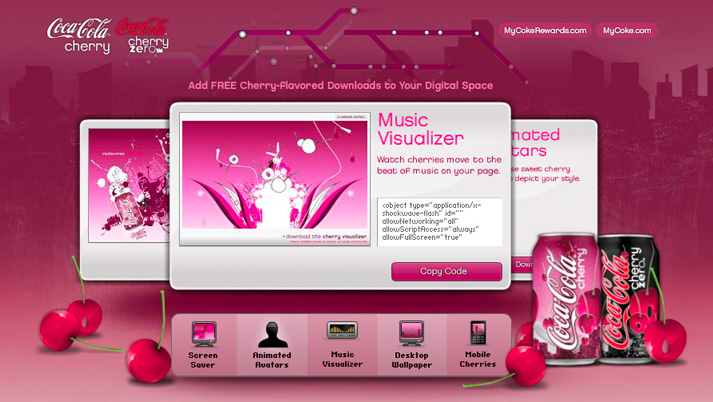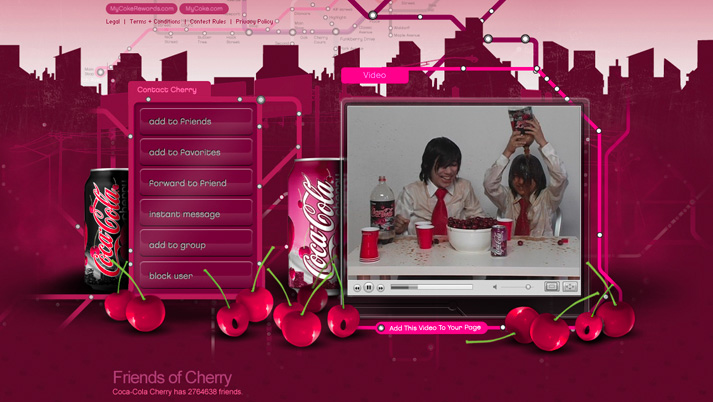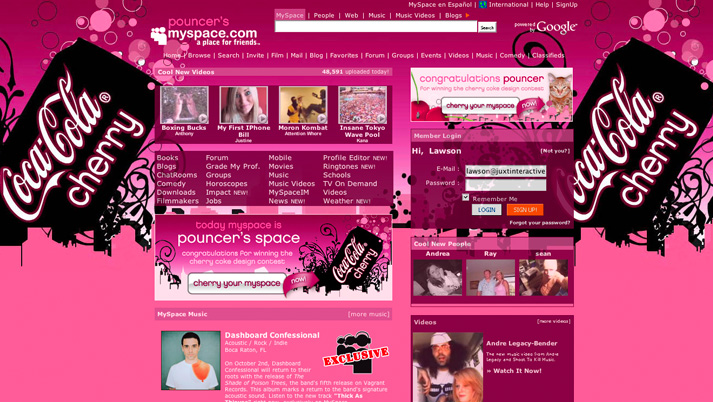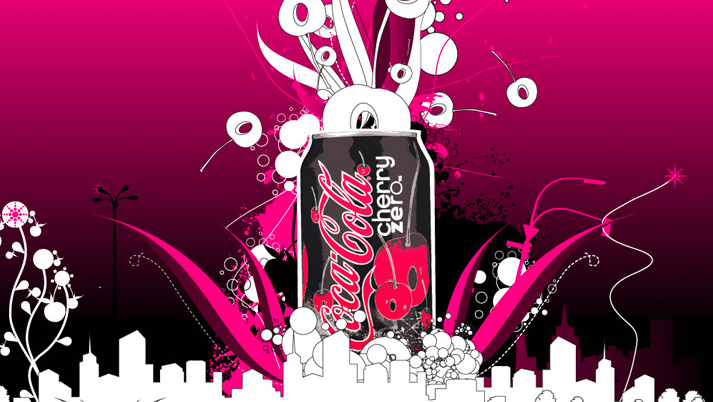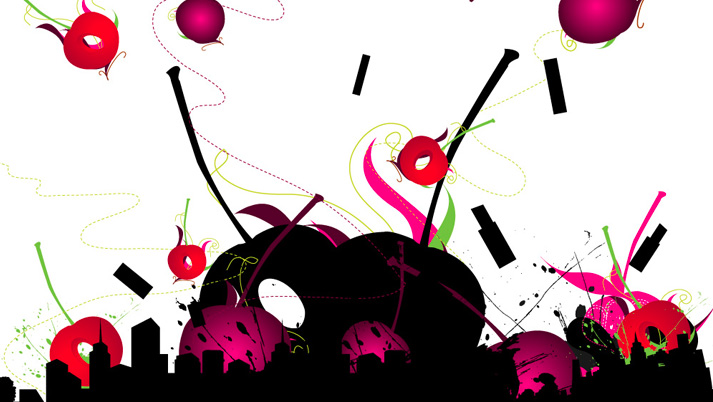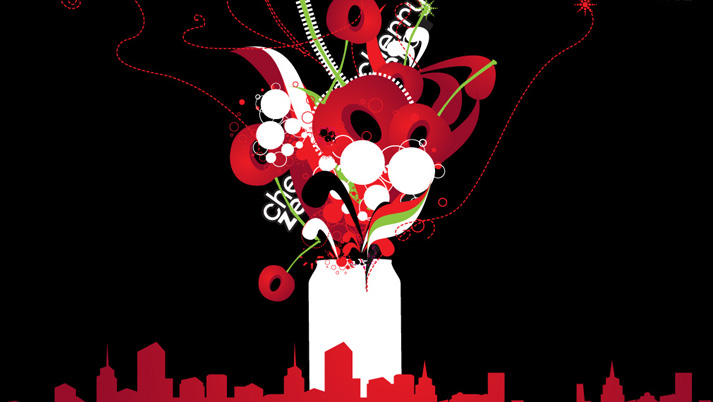 Setting the Bar
The project was an overwhelming success: Launching at midnight, over 40,000 page designs were created before 6:00 am. In the end, the project was heralded as the most successful youth program in Coke history in any media. It became the case-study project MySpace used to sell partner promotions to other agencies. More importantly for our direct client, the campaign became the first non-TV commercial advertising to ever be shown at the Coca-Cola annual shareholders meeting.