TIMES SQUARE DUNK TANK

CLEAR CHANNEL, 2011









Project Scope:

Social Strategy
Concept Development
Video Directing and Production
User Experience Design
AR Game Design & Development
Twitter Application
Facebook Application
Social Campaign
Branded Content
Street Team Live Launch Event


In 2011, Clear Channel installed the most technologically advanced digital billboard ever in Times Square. It uniquely features the highest screen fidelity and resolution, connection to servers, access to the Internet, and an HD video camera pointed down on the main plaza in Times Square.

Unfortunately, Clear Channel discovered that this screen was such a leap forward in technology and creative opportunity, that their clients had no clue how to take advantage of it. To address this issue, they hired us to brainstorm a plethora of concepts that leveraged the tech in compelling and inspiring ways. These concepts were used to help their clients grasp the full potential this billboard offered them. To truly inspire their customers the selected one of our best idea and had us to build it. Additionally, we were tasked with creating a case study video to summarized the project and it's success, for their sales team.


Upon presentation of a dozen Big Ideas, one stood out as the unanimous favorite, thus the Times Square Dunk Tank was born. We were given free rein to develop a unique look and feel for the project. We mused off the idea of a postmodern reinterpretation of a Vaudeville attraction. Creating and art direction that was visually dynamic, playful and connected to the history of Times Square.


The experience featured two characters: the Strong Man and the Painted Lady, whose fates were placed in the hands of the audience. Onlookers were prompted to tweet hash-tagged keywords to vote on which character they would prefer to dunk. Following a short live voting period, an Augmented Reality beach ball was released on screen, and the crowd worked together to bounce the ball into a target and dunk dunking selected character. We built an application that used motion tracking to make the ball react as people on the streets of Time Square swatted at it.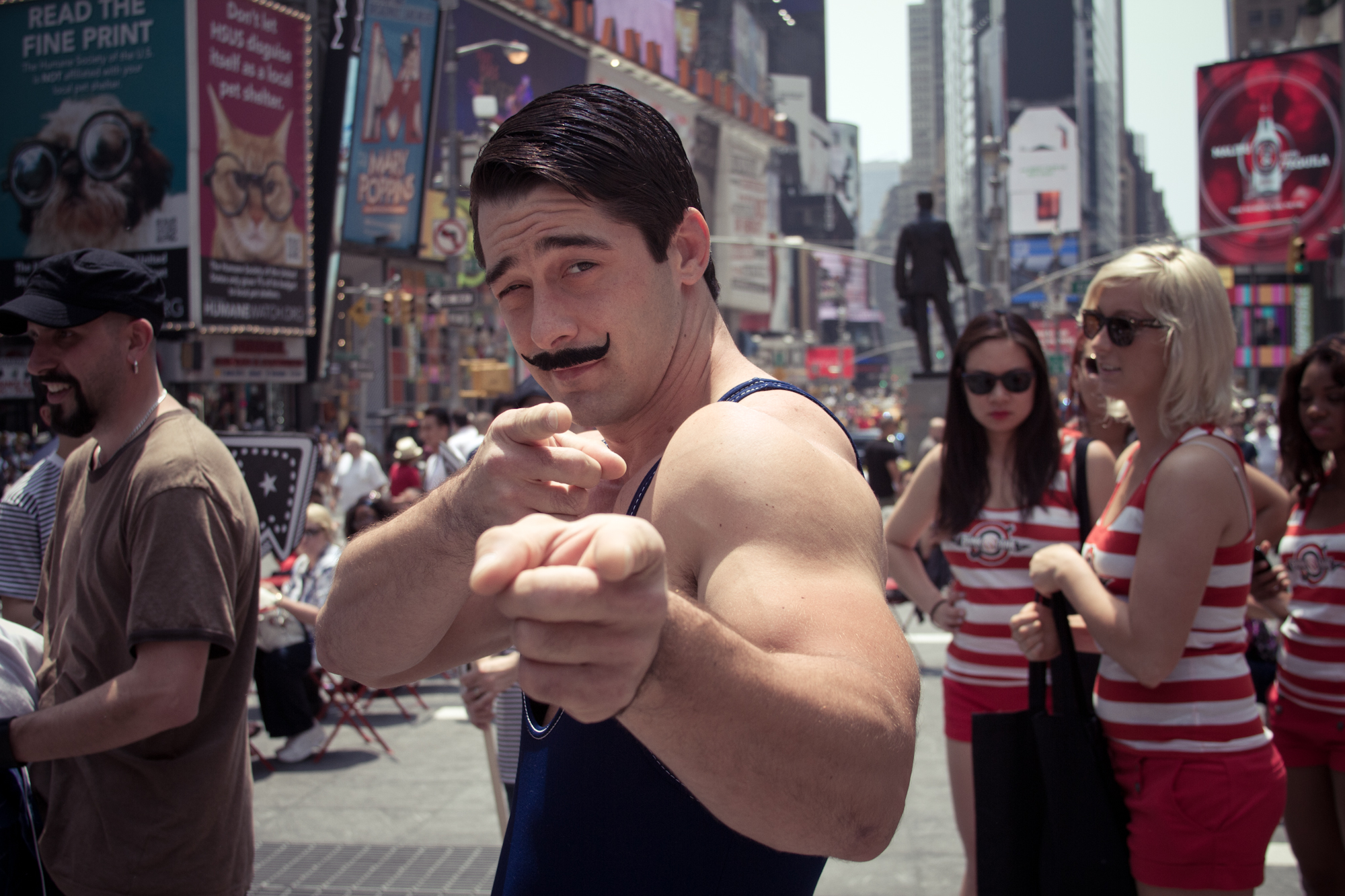 Extending the campaign into social media, we took several pictures of the experience via a 2nd camera allowing participants to share images of themselves on Facebook. Additionally, we created a contest on Facebook urging wouldbe Times Square Dunk Stars to submit audition videos. The winner was flown to SoCal for a video shoot, then out to NYC for the live unveiling in Time Square.



The experience ran three times an hour attracting up to 500 people each time. Over the course of the summer, we actively engaged 1.6 million people. In social media, we generated over a 1.5 million impressions with zero media dollars spent.
Honnors
Best Use of Alternative Tools
The Bees Awards

Best Use of Location Based Integration with Social or Mobile
Media Post DOOH Awards

Bronze Medal
Apex Awards

Silver Medal
AME Awards

Top Creative
BtoB's Creative Best Awards